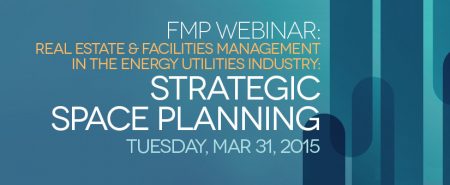 FMP Webinar: Real Estate & Facilities Management in the Energy Utilities Industry: Strategic Space Planning
On Mar 31, 2015
Tuesday, March 31, 2015
10:00-11:00 a.m. PDT
Join FMP, Inc.for the first webinar in our 4-part series on Real Estate and Facilities Management in the Energy Utilities Industry.
Minimizing underutilized space and managing endless space requests from its business units are common requirements for an energy utilities' portfolio planner. It is not only necessary to manage that demand for space, but to align the requirements with the operational and strategic goals of the organization.
Moves, reorganizations and mission-critical projects drive constant change in an Energy Utility's real estate portfolio. The unique composition of this portfolio, including operating bases, office space, call centers and substations requires that real estate and space allocation decisions be closely aligned with the specific operations of the business units. Centralizing the data, drawings and process associated with this task has become a necessity for any functioning organization.
Guest speakers Marisa Weinstein and Jay Shah will demonstrate ARCHIBUS software and speak on the information and tools needed by Strategic Space Planning to:
evaluate all requests according to consistent policy and corporate strategy;
account for capital project driven changes to defend strategic plans for future years with confidence;
utilize mobile devices to ensure accuracy in space allocation
ARCHIBUS Space Management is part of a truly integrated suite, in which the same inventory can be used in Building Operations and the same move requests can be processed within Move Management.
Marisa Weinstein is Business Solutions Manager at Facility Management Planners, Inc. Driving for results, organizing, and leading are all inherent aspects of Ms. Weinstein's personality. "I have been 'managing' before I knew what management was." The last seven years of her career have been focused on servicing the Facilities and Real Estate needs of D.O.D., corporations, and healthcare industries. Marisa has leveraged her knowledge of space planning background as a baseline for implementing IWMS systems. Today her duties include Account Management, Project Management, Solution Design, and Management of the Lost Angeles office for FMP delivering high quality solutions.
Jay Shah is Technical Sales at ARCHIBUS. Mr. Shah has been with ARCHIBUS for 3 years conducting needs analysis for clients, understanding their business processes and offering an insight into IWMS platforms to better suite their requirements. Jay's background is in technological entrepreneurship and mechanical engineering.
---